As stated
elsewhere
I volunteer occasionally with the Edmonton Opera and the
encore!
group. One of the perks of working with the organization is an occasional invitation to their fundraising events. This year I was lucky enough to join them for their annual golf tournament. Along with Paul, Stella and
Kierstin
we took on the challenging
Glendale Golf and Country Club
in a Texas Scramble.
The course has many rolling hills and a periscope is required to judge whether it is safe to hit.
Swingers.
I was the most experienced golfer of the bunch (which is scary) and we often found ourselves in these types of predicaments.
We didn't fare much better on the greens and after missing an impossibly easy putt the penalty was pushups.
There was great representation from the sponsors and funders. Many cool little games and freebies were given out. I even met a nice
Uptown Girl
.
Swing camera GIF action of my form.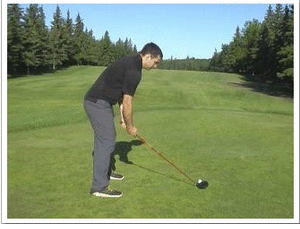 We finished with a new world record for futility in a scramble at an unfathomable plus 12. But, Paul ended up getting rewarded for an extraordinary shot with an entry into a million dollar hole in one challenge. We waited with bated breath...just look at the nerves showing below ;)... but luck wasn't on his side.
Overall, though it was a fun day, with fantastic weather and great company.
Thanks Edmonton Opera, Can't wait for the season to start in the fall!